Crossing Buffy
Hello, Ahola, and other forms of greetings. My name is Brandy and welcome to Crossing Buffy.
Now as I am just getting this site up and running it may take a few days to get everything up. I do have a few pictures, a few videos and some stories up so feel free to check them out.
You will find all sorts of things that are included in the Buffy fandom. Pics, Videos, Fanfiction.
On this site you will find Buffy media such as Fanfiction, Pictures, and music or other type of Videos. I am an avid reader of pretty much any character of Buffy fanfiction but I write mainly Willow stories. Other fandoms that you may come across on here are CSI, NCIS, Harry Potter, Veronica Mars, and WWE. I main stream in the fandom of Buffy/WWE because I'm addicted to both. I do write non-crossovers which may apper on the site.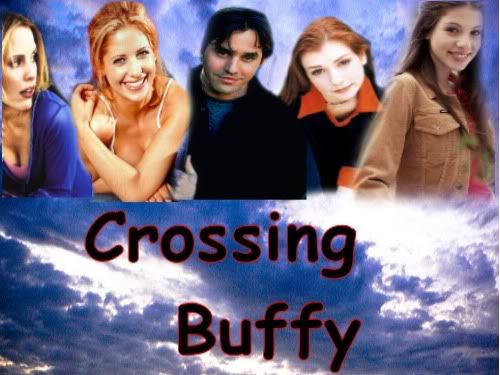 All copywrite materail belong to their rightful owners. Everything Buffy, Angel and Firefly belongs to Joss and Mutant Enemy. Everything WWE belongs to Vince and World Wrestling Entertainment. All things Harry Potter belong to J.K. Rowling and Walt disney entertainment. All things Ncis belongs to Belisarius Productions and CBS. All things Veronica Mars belong to Rob Thomas and their production company. CSI belongs to Ann Donahue and Anthony E. Zuiker and their production company Alliance Atlantis Communications.
Pairings I write are as followed by fandom.
Buffy:
Buffy/Riley
Xander/Anya
Xander/Cordy
Xander/Tara
Faith/Forrest
Dawn/Connor
Willow/Graham
Crossover Pairings:
CSI:
Willow/Greg
Buffy/Nick
Faith/whoever I feel like at the time
NCIS:
I ususaly like to keep to the shows cannon couples which are
Abby/McGee
Tony/Ziva
Gibbs/Jenny
So in keeping with that I usualy bring my Buffy couples to the fic as an already made couple.
Harry Potter:

Willow/Draco
Willow/any Wesley sept for Ron
Willow/Oliver
Though I will read other pairs.
Veronica Mars:
I'm a sucker for Veronica/Duncan
Mac/Weavil or Mac/Dick
Yes I do bring the Buffy fandom in it just depends on my mood on the pairings.
WWE:
Hehe boy are you in trouble now. I have a wide range of pairings for this fandom.
Buffy/Jericho
Buffy/Randy
Faith/John Cena
Faith/Batista
Dawn/Jeff (depending on her age in the story)
Dawn/Hurrican Helms (see above about the age thing)
Xander/Trish
Xander/Victoria
Xander/Maria
Willow/Jeff
Willow/Hurrican
Willow/Shane McMahon (This one is my fav for some reason.. oh who am I kidding it's because I'm in love with Shane McMahon. I want to be Vince's daughter-in-law)
Linda/Vince
HBK/Rebecca
Undertaker/Sara
Matt/Lita (I can't help but love these two.)
Please be informed that content in the Fun Stuff section will be downloaded to your computer should you choose to read or watch. Please do not post or upload anything you get from this site as your own. I have worked hard on all content.